The Summer That Never Was
2022 - Mexico City
Designing an exhibition in a former convent like the Alameda Art Laboratory, inevitably deals with the friction between the fragility of the temporary intervention and the permanence and massiveness of the historic building. The proposal reinterprets the wide buttresses of the Alameda Art Laboratory by generating a series of 'empty walls' made of standard blue cabinets. These new 'walls' define routes and rooms and provide shelves to accommodate the audiovisual equipment. Their volumetric presence (2 feet wide walls) establishes a dialogue with the monumental spaces of the Laboratory, while between the open structure one can still see the 16th-century murals of the Convent of San Diego.
The modularity of the shelves (elements of 2x4 feet) allows for the creation of various configurations that can be easily assembled and disassembled without being anchored to the floors or walls; this also enables future use in other rooms of the museum or as cabinets and bookcases. Three different materials were chosen to cover these volumes: blue wood panels to divide spaces, white fabric-lined frames to serve as projection screens, and felt surfaces to absorb the sound that reverberates within the high vaulted historic space.
The video exhibition "The Summer That Never Was (El Verano que Nunca Fue)" brings together film and video from the Collection of Isabel and Agustín Coppel AC (CIAC) and includes work of Tacita Dean and Jonathan Monk (United Kingdom); Melanie Smith (UK/Mexico); David Hammons, Doug Aitken, Gary Hill and Diana Thater (United States); Miguel Rael (Spain); Shirin Neshat (Iran); Francis Alÿs (Belgium/Mexico); David Lamelas (Argentina); Pierre Huyghe (France); Mircea Cantor (Romania); Superflex (Denmark); Anri Sala (Albania); and Damián Ortega, Fernando Ortega, Mario García Torres and Mauricio Alejo (Mexico).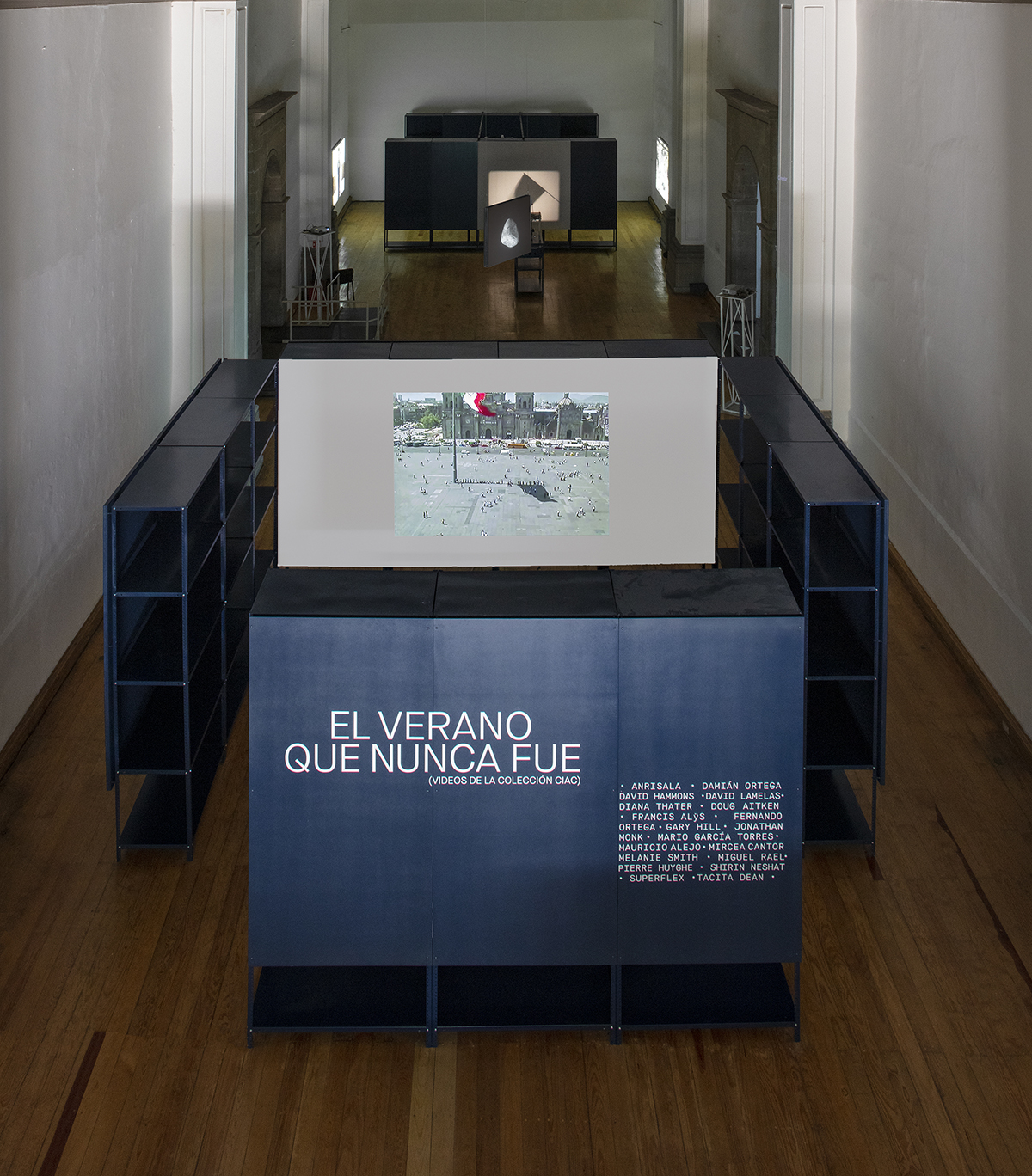 Exhibition design: PRODUCTORA (Wonne Ickx, Victor Jaime, Carlos Bedoya, Abel Perles) | Collaborators: Erik Castañeda, Osmar Montalvo | Curator: Ruth Estévez | Acoustic consultant: Omar Saad | Colection: CIAC. A.C. | CIAC team: Magnolia de la Garza, Verana Codina, Ana Belén Lezana | Exhibition title: The Summer That Never Was / El Verano que Nunca Fue | Location: Alameda Art Laboratory, Mexico City, Mexico | Date: March, 25 2022 – July 3, 2022 | Photography: Ramiro Chaves