Teopanzolco Cultural Center
2017 - Cuernavaca, Morelos
The project for the new Cultural Center is located on a site opposite the archeological zone of Teopanzolco, a situation that proposes two fundamental strategies: on the one hand to enhance the relationship with the archeological site and on the other to generate a significant public space.
The building is organized around two elements, a triangular building that contains the public programs (lobbies, services, box office, cloakroom, auditorium) and the platform surrounding it that contains the operation zones (dressing rooms, storage, workshops, etc), including a multipurpose black box theater.
The horizontal platform surrounding the triangular building serves as a viewing area for the archeological zone and towards the city. This grand plinth contains a series of patios, one of which, facing the secondary entrance to the auditorium, has been sunk into the ground to create a small open-air theater space. This platform generates a variety of exterior spaces and resolves the secondary access to the interior of the auditorium or to the platform itself while incorporating the existing large trees.
Meanwhile, the main triangular-shaped roof comprises a large stepped ramp that emerges from the intersection with the horizontal platform that surrounds it and substantially reduces the physical presence and visual impact of the new building, as well as converting the roof itself into an additional open-air auditorium, which has the archeological site as a backdrop. This great triangular esplanade forms the roof of the auditorium's main hall and contains another, smaller triangular esplanade that in turn forms the roof of the main lobby. Both platforms descend in opposite directions and create a visual interplay of inclined planes that can be appreciated from different points of the building. The main lobby is a semi-open space with strategically located apertures permitting cross-ventilation, avoiding the use of electrical air conditioning systems. The axis of composition of the triangular floor plan of the entrance space was deliberately aligned with the main pyramid. As a result, the lobby placed exactly opposite the pyramid becomes a viewpoint and a space for meeting before or after events, and a space that establishes an ongoing dialogue with contemporary cultural life and the presence of the past.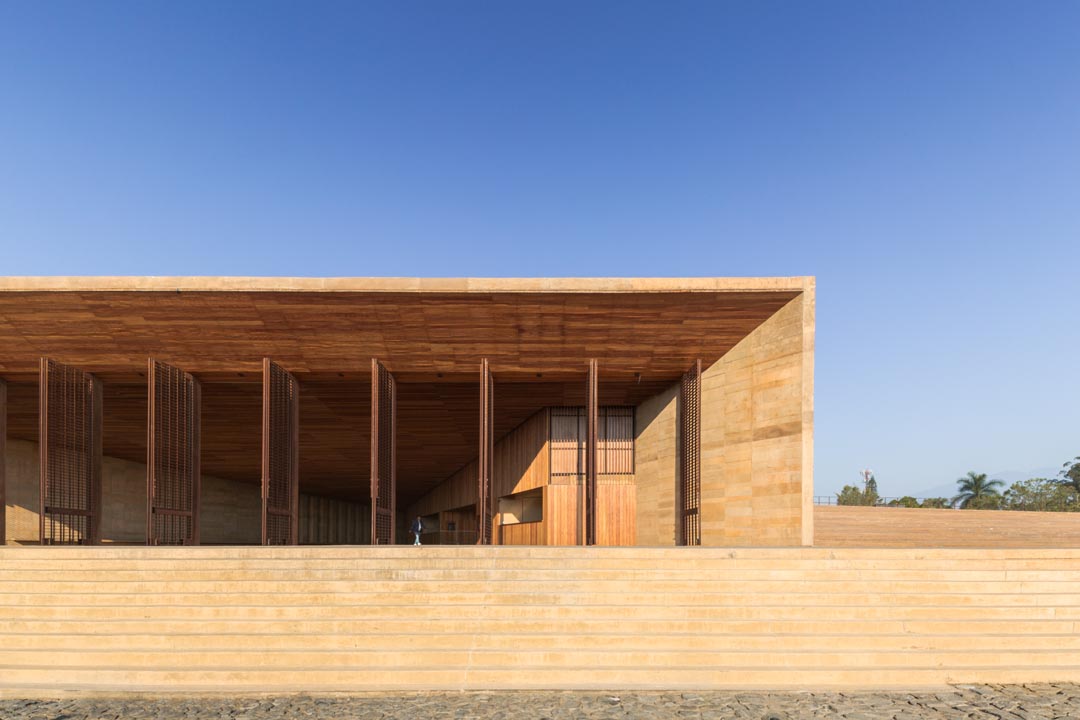 Architecture: Isaac Broid + PRODUCTORA (Carlos Bedoya, Victor Jaime, Wonne Ickx, Abel Perles) | Collaborators: Gerardo Galicia, Pamela Martinez, Josué Palma, Alonso Sánchez, Rosalía Yuste, Antonio Espinoza, Diego Velázquez, Gerardo Aguilar, Jesús Minor, Juan Pablo Pérez, Oswaldo Delgadillo, Mariana Toro, Valeria Alvarado y Eitan Vázquez | Structural Engineering: Colinas del Buen (Efren Franco y Selene Cortes) | Mechanical Engineering: Taller M2 (Jose Madrid) | Theatre Consultant: Alejandro Luna e Itzel Alba | Acoustic Counsel: Cristian Ezcurdia y ARUP (Jaume Soler) | Lighting design: Luz y Forma (Luis Lozoya) | Bioclimatic Consultant: Bioarquitectura (Gerardo Velázquez Flores) | Client: Secretary of Culture of the Morelos State (Cristina Faesler) | Type: Cultural Infrastructure | Location: Cuernavaca, Morelos, Mexico | Surface: 75,348 sqft | Date: May 2017 | Photography: Jaime Navarro, Rory Gardiner, and Onnis Luque
Winner of Panorama Obras Award at IX BIAU, Paraguay 2019
Winner of Simon Arquitectura Award 2018 – Living Places
Winner of Oscar Niemeyer Award 2018 (REDBAAL)
Honor Mention at the XV National and International Mexican Architecture Biennial 2018
Winner of Silver Medal at the III Mexico City Architecture Biennial
Winner of CICA Award (International Committee of Architecture Critics) for Latin American Architecture at the Buenos Aires International Architecture Biennial 2017
Winner of The American Architecture Prize 2017/ Architectural Design
Winner of 'Icon of Design 2017' award by Architectural Digest magazine
Winner of the 1st International Prize at the XXI Pan-American Architecture Biennial of Quito (BAQ2018) for Teopanzolco Cultural Center in the Architectural Design category, Quito, Ecuador, 2018